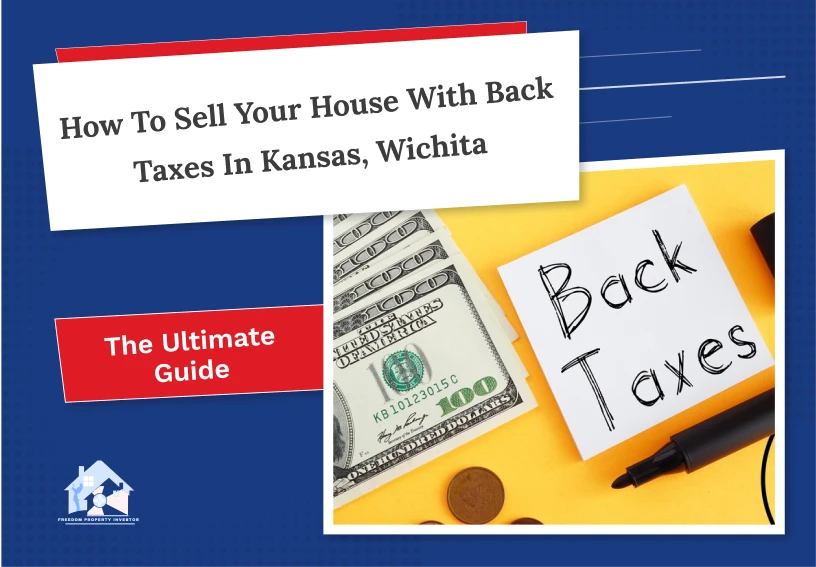 Selling a house with back taxes is a significant undertaking under the best of circumstances, but when you add the burden of back taxes into the mix, the process can become even more complex. If you find yourself in a situation where you need to sell your house fast in Kansas and you have taxes owed, you're not alone. Many homeowners in similar circumstances face the challenge of navigating this tricky terrain.
If you are looking for the answer to "What is back taxes," this comprehensive guide will take you through the essential steps and strategies to sell your house in Kansas with back taxes successfully, even when taxes are looming over the transaction. Whether you're dealing with property tax arrears or unpaid federal income taxes, we've got you covered. By the end of this ultimate guide, you'll have a clear understanding of how to file back taxes, tackle the issue of selling your house with taxes in Kansas, Wichita, and find a path towards a successful and stress-free sale. Contact Freedom Property Investors to dive in and demystify the process as we buy houses in Kansas.
Assess the Total Back Tax Obligation
The initial step in selling your property in kansas with delinquent taxes is determining the exact amount owed. You can contact the Treasurer's Office to acquire this information.
Examine Your Alternatives for Settling the Back Taxes
The optimal approach for settling the taxes can be determined once you know the amount you owe from the property sale. This might involve paying the full tax amount, negotiating a payment arrangement with the county, or transferring the tax responsibility to the buyer as part of the transaction.
Setting the Accurate Property Value
It's crucial to comprehend your property's current market value before listing it for sale. This knowledge will aid in setting an appropriate asking price and making essential improvements to enhance its worth.
Engage a Seasoned Real Estate Specialist
A knowledgeable real estate agent well-versed in the market can streamline the process of selling a property with outstanding taxes. They can assist in effectively marketing your property, negotiating with potential buyers, and addressing any legal or tax-related concerns that may arise.
Sell House Fast Wichita – Prepare Property for Sale
To enhance the likelihood of a successful sale, it's vital to prepare your property for the market. This may encompass completing necessary repairs, sanitizing, and presenting your home in an appealing manner to prospective buyers.
Implement Effective Property Marketing
Your real estate agent can aid in marketing your property through various avenues, including listings on multiple real estate websites, organizing open houses, and advertising in local newspapers and magazines.
Facilitate Buyer Negotiations
Your real estate agent can support you in securing favorable terms and prices when a buyer submits an offer for your property. It's essential to maintain transparency regarding the outstanding taxes and any other unresolved financial obligations that could impact the sale.
Sell my house in Kansas with back taxes – Closing the Sale.
Once you've come to an agreement with the buyer, your real estate agent can assist in finalizing the transaction, which includes transferring the property title and resolving any outstanding tax obligations.
By following these steps, you can effectively complete the sale of your house with taxes in Kansas. It's essential to collaborate closely with an experienced real estate agent and maintain transparency regarding any lingering tax liabilities to ensure a smooth and successful sale.
Selling a property burdened with taxes in Kansas may appear daunting, but with careful planning and preparation, it can be a straightforward process. By adhering to this comprehensive guide, you can efficiently sell your property while addressing any outstanding tax responsibilities.
How to File Back Taxes – Exploring Ways
In today's thriving seller's market, homeowners in Kansas are increasingly considering the option of selling their homes by settling taxes. If you intend to sell your house in Kansas through conventional means, this article outlines five essential steps to follow.
If you're contemplating a "For Sale by Owner" approach and intend to "sell my house fast in Kansas" without the involvement of a real estate agent, this article may be less applicable to your situation. However, if you opt for the traditional route of selling your house, this article aims to provide valuable insights as we buy houses in Wichita, KS.
Conduct a Market Analysis
Commence the process of selling your home for cash in kansas by arranging a home evaluation consultation and obtaining a Kansas Comparable Market Analysis (CMA) from a real estate agent. During this consultation, a listing agent will meticulously assess your property and compare it to recently sold homes in your vicinity.
Using the gathered data and relevant information, the agent will estimate your home's market value and potential selling price. Armed with this knowledge, you can make an informed decision about proceeding with the sale of your home.
Engage a Real Estate Agent
When selling a house in Kansas, the next step involves selecting a real estate agent. Consider interviewing multiple agents and request their CMAs and marketing strategies to make an educated choice.
In addition to determining your home's estimated value, it's imperative to inquire about the agent's plan for selling your property fast in kansas. The agent should possess a well-designed marketing strategy that utilizes the latest online marketing methods, given that nearly 95% of home searches occur online.
Address Home Maintenance
Before listing your property, your real estate agent may suggest various repairs or improvements. It's essential to evaluate these recommendations and their potential impact on your ability to achieve your desired selling price. While staging your home can lead to quicker sales and higher profits, the required fixes may vary in terms of time and resources.
Some repairs may be minor and quickly executed, while others might necessitate more substantial efforts. If you prefer to avoid the expenses and effort associated with physical staging, inquire with your agent about virtual staging alternatives. Real estate agents often have access to cutting-edge technologies and professionals capable of virtually staging your property in photographs.
List Your Property on MLS and Execute a Marketing Strategy
It's time to initiate the listing process for your home, marking a crucial moment in the selling journey. Your real estate agent will upload your property onto the Multiple Listing Service (MLS), ensuring maximum visibility and accessibility to potential buyers across the Internet. This broad exposure frequently leads to offers for your home.
While your property is actively on the market, your agent should diligently implement their marketing plan. This may encompass actions such as sending emails to their extensive database of buyers and fellow agents, crafting a tailored website page, distributing informative postcards, or engaging in direct communication with their buyer leads to apprise them of the availability of your property.
Negotiation and Acceptance of an Offer
When your home is appropriately priced and effectively marketed, you can anticipate receiving offers from interested buyers. This presents another opportunity for your real estate agent to demonstrate their negotiation skills. In a seller's market like Kansas, it's common to encounter multiple offers and bidding wars. Your agent will guide you through the process of evaluating each offer and, if necessary, formulating counteroffers. Once you have accepted an offer, the next step is to proceed with the "sell my house Kansas'' process.
We Buy Houses Wichita, KS – Freedom Property Investors
Selling your house with back taxes in Kansas, specifically in Wichita, can be a difficult task, but it's not impossible. With careful planning, transparency, and the guidance of real estate professionals, you can successfully navigate this process. Remember that addressing your taxes is essential to protect your property and financial interests. If you want to sell my house fast in Kansas with back taxes and are unsure about the best course of action, consult experts who can help you make informed decisions and achieve successful sales in Wichita's dynamic real estate market.