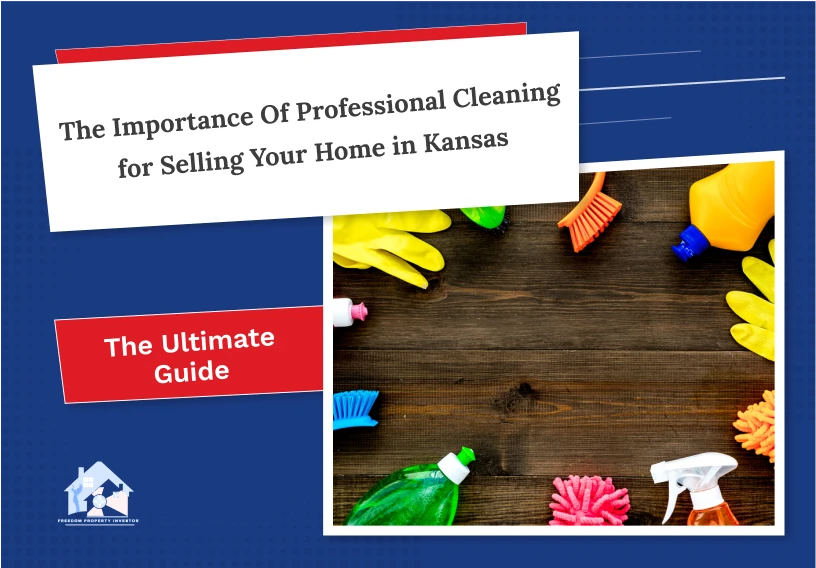 Introduction
Selling your home in Kansas can be a challenging and stressful process. There are several important factors to consider to ensure a successful and smooth transaction, from setting the right price, marketing your property effectively, making important repairs, and, of course, cleaning your house before selling. In fact, professional cleaning is one of the most crucial yet often overlooked aspects of preparing your home for sale. Here's why it's so important and how it can impact the sale of your home.
The First Impression Counts
When potential buyers walk into your home, the first impression is everything. A clean, well-maintained, and fresh-smelling home can instantly create a positive and lasting impression. Conversely, a dirty, cluttered, or odorous house can immediately turn off potential buyers, making it harder to sell your house fast in Kansas. Professional cleaning ensures that every nook and cranny of your home is spotless and inviting.
Highlighting Your Home's Best Features
Professional cleaning can help highlight the best features of your home. A thoroughly cleaned and decluttered space will allow buyers to focus on the positive aspects of your home, such as its layout, natural light, and unique features, rather than being distracted by dirt, grime, or clutter.
Important Repairs to Make Before Selling a House
Before selling your home, it's essential to address any necessary repairs. From fixing leaky faucets to repairing broken tiles to patching up holes in the walls, taking care of these issues before listing your home can make a significant difference. Not only will it help you avoid any surprises during the home inspection, but it will also show potential buyers that you have taken good care of your property. After making the important repairs, a professional cleaning will ensure your home is in top-notch condition and ready for showings.
The 'Sell Home As Is' Dilemma
Many homeowners consider selling their home 'as is' to avoid the hassle of making repairs and cleaning. However, this option may not be the most profitable one. Homes that are sold 'as is' in Kansas often attract lower offers as buyers factor in the cost of repairs and cleaning. Investing in professional cleaning before selling your house can help you attract higher offers and sell your house fast in Wichita or any other city in Kansas.
The Professional Edge
While it might be tempting to clean your house yourself to save money, hiring a professional cleaning service can make a world of difference. Professionals have the necessary tools, products, and expertise to clean your home thoroughly and efficiently. From deep-cleaning carpets and upholstery to cleaning windows and hard-to-reach areas, a professional cleaning service will ensure your home is immaculate and ready for potential buyers.
Conclusion
Selling your home in Kansas is a big decision and requires careful preparation. While there are several important repairs to make before selling a house, professional cleaning is an essential step that should not be overlooked. A clean and well-maintained home will create a positive first impression, highlight your home's best features, and ultimately help you sell your house fast in Kansas. Remember, a sparkling clean home is a sold home!
Partner yourself with the Best
Freedom Property Investors is an invaluable partner in your journey to sell your house fast in Kansas. They understand the importance of presenting your home in the best possible light to attract potential buyers and secure the best possible offer. As seasoned professionals in the real estate market, they not only assist in important repairs to make before selling a house but also recommend professional cleaning services that will ensure your home is immaculate and ready for showings. Their comprehensive approach, attention to detail, and commitment to their clients make them the ideal choice for anyone looking to sell their home quickly and profitably. Trust Freedom Property Investors to provide expert guidance and support throughout the entire home-selling process.